CounterPoint Films is a critically-acclaimed film and television production company, founded in 1998 by Oscar Nominee Paola di Florio to produce both nonfiction and narrative programming. Los Angeles-based CounterPoint offers state-of-the-art equipment packages and provides end-to-end solutions for clients –– from content creation to post-production, to marketing strategies. CounterPoint has run overseas productions in Italy, India, Bali, Brazil, Ecuador and Peru.
Paola di Florio
president • founder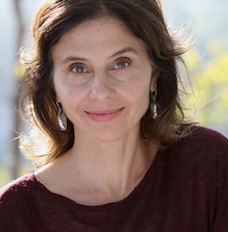 Paola di Florio is an Oscar and Emmy-nominated filmmaker and TV producer whose work has featured extraordinary individuals and the triumph of the human spirit. Most-recently, she co-wrote & directed the critically-acclaimed AWAKE: The Life of Yogananda (one of the top-grossing indie documentaries of 2014-15) and served as a Series Producer on CNN's Emmy-nominated The Seventies.
Her films have screened at the U.S. Congress and in the British House of Lords. They've been distributed theatrically throughout the world and broadcast on HBO, CBS, NBC, FOX, PBS, CNN, Sundance Channel, Court TV, TLC and A&E.
The New York Times described her work as "extraordinary" and "poignant…"
 Los Angeles Times found it "deeply affecting, revelatory [and] gripping…"
Hollywood Reporter said that it "should be required viewing for all Americans."
Her documentaries (Speaking in Strings, Home of the Brave) feature the lives of strong, maverick women who impacted American culture. These films premiered at Sundance, garnered numerous awards and were honored by the Academy of Motion Picture Arts & Sciences, the Writer's Guild and the International Documentary Association.
Other television work includes serving Series Director and Showrunner for TLC's The Adam Carolla Project, and Executive Producer on  a TV series for Canal Plus entitled Directors on Directors, featuring unique portraits of Hollywood auteurs––including Sydney Pollack, Arthur Penn, Robert Altman, Michael Mann, and others––which was given a special screening at the Locarno Film Festival's 50th Anniversary.
Di Florio graduated with honors from NYU's Tisch School of the Arts. She has served on film juries and panels, and guest lectured at UCLA, USC, Berkeley, Stanford and other universities and conferences. A mentor for teenage girls at the Spark Program, she is also a founding partner of Nerd Girls, a new media startup dedicated to creating new role models and empowering young women to enter the fields of science, technology, engineering, math and arts (STEAM). Nerd Girls has just been awarded the 2016 "Disruptive Innovations Grant" from IEEE to produce a web-based chat show.
Di Florio is married to filmmaker/author and Counterpoint Films partner Peter Rader, and is the proud mother of their two sons, Matteo and Luca.
Peter Rader
director: creative/business affairs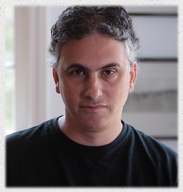 Peter Rader has worked as a film and television writer for 20 years. His first script, Waterworld, was produced by Universal in 1995. He has developed numerous projects for other studios, and industry leaders such as Steven Spielberg, Dino De Laurentiis and John Davis.
In the nonfiction arena, Rader has directed episodes of the hit TV show Dog Whisperer with Cesar Milan. He has worked as a cinematographer and editor on a number of award-winning documentary projects, including AWAKE: The Life of Yogananda, which he produced and edited. He also lead its worldwide distribution effort.
Rader attended Harvard University, where he graduated magna cum laude. He is accomplished in a broad range of fields, including music and photography.  Rader has taught classes and workshops in writing and filmmaking at Harvard, Los Angeles Film School, and Cal State Fullerton. He has also volunteered to teach writing to homeless people at Step Up on Second.
In 2013, Rader published his first book, Mike Wallace: A Life (St. Martin's Press), a critically acclaimed biography of the legendary CBS journalist. Rader was subsequently hired to adapt his book into a script for director Rob Reiner. Most recently, Rader wrote Playing to the Gods: Sarah Bernhardt, Eleonora Duse, and the Rivalry That Changed Acting Forever (Simon & Schuster, 2018), which is being adapted for the screen by Emmy & Golden Globe winner Michael Sucsy.